Home
News
Cartoon
Books
Reviews
SimTel
Compress
Database
Delphi
Desktop
Diskutl
Fileutl
Graphics
Inet
Mmedia
Prog
Scrsave
Util
C/C++
CodeBase!
Libraries
Tutorials
WebLinks
Home / C Tutorials
---
SciTech MGL 4.05
Installation
Adapted from the MGL Online Help
Tuesday, May 25, 1999

Before you install any SciTech Software developer products, you should decide upon a standard root directory for installing all of the products into. By default the installation programs will choose the C:\SCITECH directory as the installation location.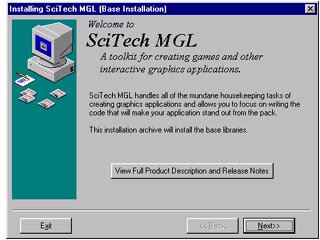 You might like to install the files onto a different drive, but should install all the files for all the different SciTech Software developer products (MGL for DOS, MGL for Windows, Plus Pack etc.) that you have under the same directory tree. Many SciTech Software products use common libraries and common header files, so when you install them into the same directory you will only have one copy of each of these common files and won't run into conflicts with multiple copies of the same files on your system.




This Article
Installation
Configuration
Step by step
Move bitmaps
Troubleshooting

Downloads
MGL Documentation Programming Guide Reference Guide

See Also
MGL Libraries

NetLinks
SciTech Homepage
MGL Repository
MGL Newsgroup